Casa de Tortugas - Stories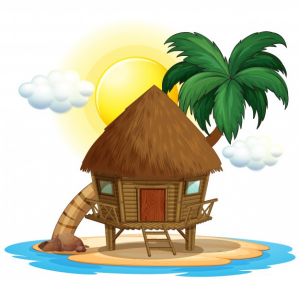 Designing our Caribbean home
Our home will be very simple, built using local materials and have that Caribbean feel that we love so much. We don't want to be those people that move to Panama and build an American style home that sticks out and requires large amounts of power and upkeep.
Traditional homes in Bocas del Toro are simple wood structures with no insulation, no air conditioning. They are usually open near the roof line to allow air to flow through all the time. Keeping cool in this area is mostly a matter of shade and air flow. In town, you will find some homes built directly on concrete slabs, but most are a few feet off the ground to prevent moisture from building up under them.
Early on, we decided that we wanted to be well off the ground, for a couple reasons. By setting our home 10 feet off the ground we will have a much better view without having to clear trees. Also, with that much room under the home, we can make use of the space for storage or even for building guest rooms later.
We also knew that we didn't need a lot of indoor space or many walls. After a good deal of doodling we decided on a very simple 900 square foot living area with the bathroom being the only walled in room. The bed will simply sit off in one corner of the main living area. The back half of the home will be mostly solid walls with a few windows. The front half of the home will have huge glass doors that can open to bring the outdoors inside.
Of course we need an amazing porch to relax on and enjoy nature and the view. So on the front of the home we will have a 12 foot (maybe 15) porch where we will do most of our outdoor living. The rest of the house will have a 6 foot porch so we can walk all the way around and it will all be under the roof so we stay dry and in the shade.
The roof will be a simple and flattened "A" shape running from the front porch to the back and the walls of the home will be 10 feet high. The roof will sit on top of the walls but will be open so air will flow over the walls and through the house all the time to keep us cool.
Can't you just envision all of this? No? Yeah, neither could we, so together we created a model. Here are some pictures. Keep in mind this is a very simplified model, just enough to help us visualize. You can click them to see a larger image.
We had a lot of fun making this model. It lives on a cabinet in the living room and we look at it every day. It makes us smile all the time. Just knowing that one day soon that will be where we live.
---
---