Casa de Tortugas - Stories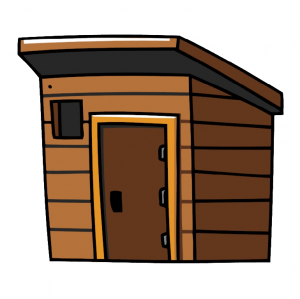 Having a shed built from 3,200 miles away.
Can you imagine having anything built without being on-site?
It didn't seem like it would be a stressful thing to have a simple shed built without being on-site to supervise. There were decent drawings given to our groundskeeper including the location and orientation of the shed we were wanting.
Now you may be asking why we had the groundskeeper do this build... Well, this is very common because a groundskeeper is so much more than someone that takes care of the plants. They do all sorts of maintenance including building, repairing, drainage, and caring for the plants. These guys do it all.
We decided to have this shed built to store things so we didn't have to transport them every time we came to visit. As a bonus, we could use the shed as a place to stay instead of using a tent until our house is ready.
The process actually turned out to be quite stressful because of communication issues and delays. Glenn is a bit of a control freak when it comes to this sort of thing so when decisions were made on site that were not communicated before hand, stress levels went up.
For example, the shed had to be move from the originally desired location and the orientation was also changed. We only learned of these changes after they were complete and couldn't be changed.
In the end, everything turned out exactly the way they needed to be. The folks building the shed were looking out for our best interest and the shed was built in a safe and sturdy way and in a great location very close to where we wanted. The changes that were made were for good reason. What was originally asked for would have caused problems down the road.
Once we got on-site a few months after the build was complete, we saw exactly why the changes were made and it all made sense. It was just the lack of communication. The shed is 8 feet wide by 12 feet deep and 9 feet tall in the front (10 feet tall in the back to get slope on the roof). Here a few pictures. Click them to enlarge.
So what did we learn from this small project?
Well originally we had planned on building our home soon and using it for vacations. But after the stress from such a minor build while being remote, we decided that we will not build until right before we move. We may even move and rent in Bocas Town until our house is built so we can supervise on-site.
---
---