Casa de Tortugas - Stories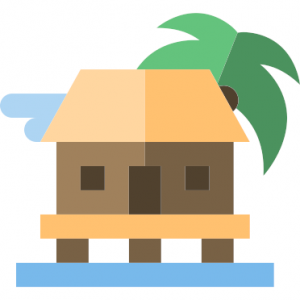 Where to stay when visiting Bocas
There are plenty of options for lodging. You can go super cheap or spend a bundle. It depends on what you are after.
If you want to be near or in town, can stay on Isla Colón or Isla Carenaro. If you want to be a little further away from town, there are a lot of other choices for you to check out in the area. Everything from beach front resorts on Bastimentos to echo lodges out on Isla Popa, near Dolphin's Bay and many other areas all through the archipelago.
What you choose depends on your budget, comfort level, desire to be close to entertainment and your adventure level.
Hopping a boat to one of the islands close to Isla Colón is between $1 and $6 per person depending on the distance. But to go out to Isla Popa or Dolphin's Bay can easily cost $100 because you have to pay for the water taxi to return back to Bocas Town even if you are not on the boat. Many resorts on the outer islands include the cost of picking you up and taking you back to Isla Colón at the end of your stay as part of your total hotel cost. But if you want to just cruise back to town in the middle of your stay at a non-scheduled time, that is likely to cost extra. Be sure to ask before booking your stay.
Our personal favorite place to stay is the Sun Havens Appartments & Suites because they are very much like being in our own home. We have our own kitchen and we tend to stay for several weeks. There may be other places that rent for a low price that are just as nice as these apartments. But, once we found this place there was no need to look around any more. We like the owner, it's clean, safe and very affordable. Because we don't actually have a house on our property yet, we basically just camp on our land, so we only stay for a few days. To make sure we have a room when we return to town, we always rent the apartment even for the nights we won't actually be there. It is just easier and well worth the peace of mind for us. We just let the owner know what days we will be gone and he knows not to worry about us. Yet if we don't return when expected, he would send help.
You may be asking what is the least you could pay... Well if you are willing to sleep in a communal hostel, you can get a bed for as little as $17 a night last we checked. Communal living really isn't for us though. We like our private space. But at the same time, we don't want to spend hundreds per night for a room we are not going to spend much time in. We will be out and about.
If you want a once in a life time type of experience, you might want to check out the Jungle Tree House by the Sea. It is an amazing experience and worth the money. It is your own room with a mini kitchen, but I am not sure it qualifies as being "private" since it is a tree house with no walls. But even during a morning storm, you stay safe and dry and being out in nature is amazing. We stayed there once and enjoyed it a great deal.
If you want to stay in a cozy over the water private room, check out EI Faro del Calibri on Isla Carenaro. It is a short $1 (per person) water taxi ride from town and the place is great. Be warned, if you walk around the island be sure to use bug spray because chitras (little bugs) will bite you without it. But that is true of a lot of places. It is the nature of the environment. Like mosquitoes in other areas.
In closing, there really are a lot of places to stay so it can be hard to choose. My recommendation is to explore on the web, ask other visitors and read reviews. For your first visit, you may decide to pay a little extra if you are nervous but know that any place with a good reputation is going to serve you well. And if you are staying on Isla Colón, you don't need to be right in the heart of the action because everything is just a few minutes walk away. Well, as long as you are in the main area near town. If you are staying on one of the outer islands, keep in mind the travel time to get back to your hotel because water taxis will stop running to the outer islands as the sun starts going down. They will run quite late for the runs that stay near town.
We can't give reviews on most of the hotels, but we for sure recommend the Tree House, EI Faro del Calibri and Sun Havens as those are the ones we stayed at.
---
---